As you know, I've been jonesing to get into knitting/crochet swaps for a couple months. I knew I didn't have any time to dedicate to them before the wedding, so I just joined a bunch of groups and waited like the psycho I am. After returning from our fabulous honeymoon and getting back into the groove of working full-time, catching up with friends, all the weekend traveling we do, just generally being awesome, etc, I decided to take the plunge!
I received my first swap package (from the wonderful Becky in Ravelry's Swap on a Budget group) last week, and it was AMAZING!
First, the whole kit and caboodle:
Look, she sent me a kitty! Just kidding :) That's Petey, our younger cat who's obsessed with Nick. He was so excited to be part of the photo. I think he just wanted to eat the hot chocolate because it made a fun crinkly sound, haha.
But look at that amazing pink bag! And all the super fun stuff! Beautiful crocheted cowl, a great book I can't wait to get started reading (it's right up my alley - and SIGNED by the author, which is just some added fun), great patterns for a hat and coordinating fingerless mitts and the fun black and PINK yarn to make it, hot chocolate , a fun candy cane, and so much more!
A (poorly taken) photo of the amazingly awesome stitch markers! I told my husband that I've never had a set of fancy stitch markers before, and for my first set, these are absolutely amazing. Silver, pink, and classy - sounds like something I'd love! Haha. I can't wait to dangle these off my needles! I'll have to find a super safe place for them, as I our couch has a terrible track record of eating all my stitch markers and pretty much anything else I leave there.
A close-up of the yarn I can't wait to start using :D I already added the hat pattern to my projects so I remember to take 5 minutes for myself and make myself a hat with this beautiful yarn. It'll actually make a nice set for my new winter coat - which is bright pink. Surprise!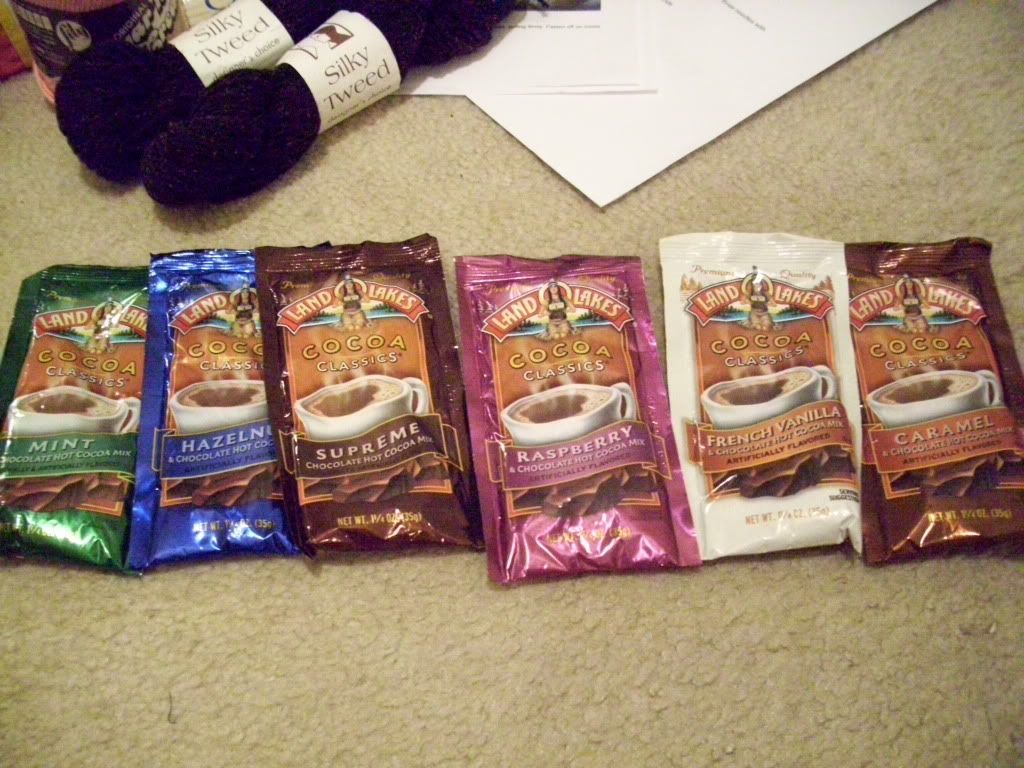 All the different hot cocoas I received. I think this week, I'm going to come home from work each night, light up the tree, cuddle under a blanket with all my holiday knitting/crocheting, and sip a new cup of these each night. They all sound so wonderful; I don't know which one to choose first!
Thank you SO MUCH, Becky! This package really made my night, and I'm so excited for all of it. You really "got" what I like and love, so rest assured that all of this will be enjoyed!!!! Thanks again!!!!
I've since received another fantastic package from another swap, and just need to upload the pictures. These are super fun, and I can't wait to participate in more this coming January!